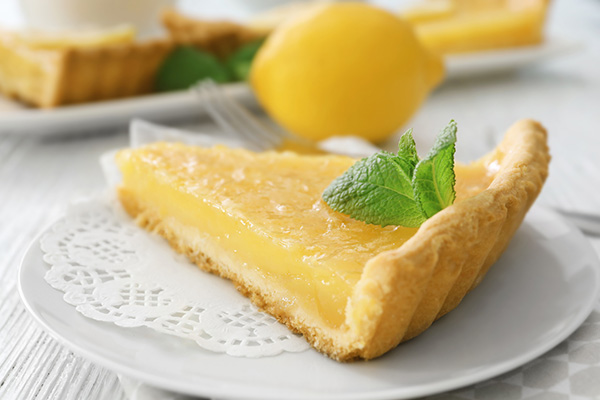 Chef Jonathan's Lemon Tart
Chef Jonathan's Lemon Tart
Chef Jonathan tells us that in all his years of working in five-star hotels and resorts, this was the number one requested dessert and he's delighted to share his recipe with us. This recipe serves 10-12 people.
Ingredients:
For the tart shell:
350 g flour
A pinch salt
175g unsalted cold butter cut into cubes
100g icing sugar
3 egg yolks
For the filling:
6 eggs
270g sugar
Zest of 4 lemons
190ml lemon juice
190ml cream
Method:
For the sweet pastry, pulse the flour, salt and butter in a food processor until the mixture resembles coarse breadcrumbs. Add the sugar, then the egg yolks and pulse. The mixture will immediately combine and should fall from the sides of the bowl. Remove, wrap in the cling film and chill for at least an hour. Pre-heat the oven to 350F.
Coarsely grate the pastry into a 30cm loose bottom fluted flan tin, and then press it evenly on to the sides and middle. Bake blind (without the filling) for 20 minutes until very light brown. Remove from oven and allow to cool.
Filling:
Finely grate lemons for the zest
In a separate bowl, whisk eggs and sugar until the sugar starts to dissolve
Add cream and lemon zest to the egg and sugar mixture to form a custard
Add lemon juice and allow to rest for 15-20 minutes
Skim foam from the top of the custard
Gently stir while pouring into the cooked tart base
Bake at 350F until almost set
Remove tart from the oven while it remains slightly unset in the centre
Related