Executive Chef, Chestnut Residences
Chef Eddie Low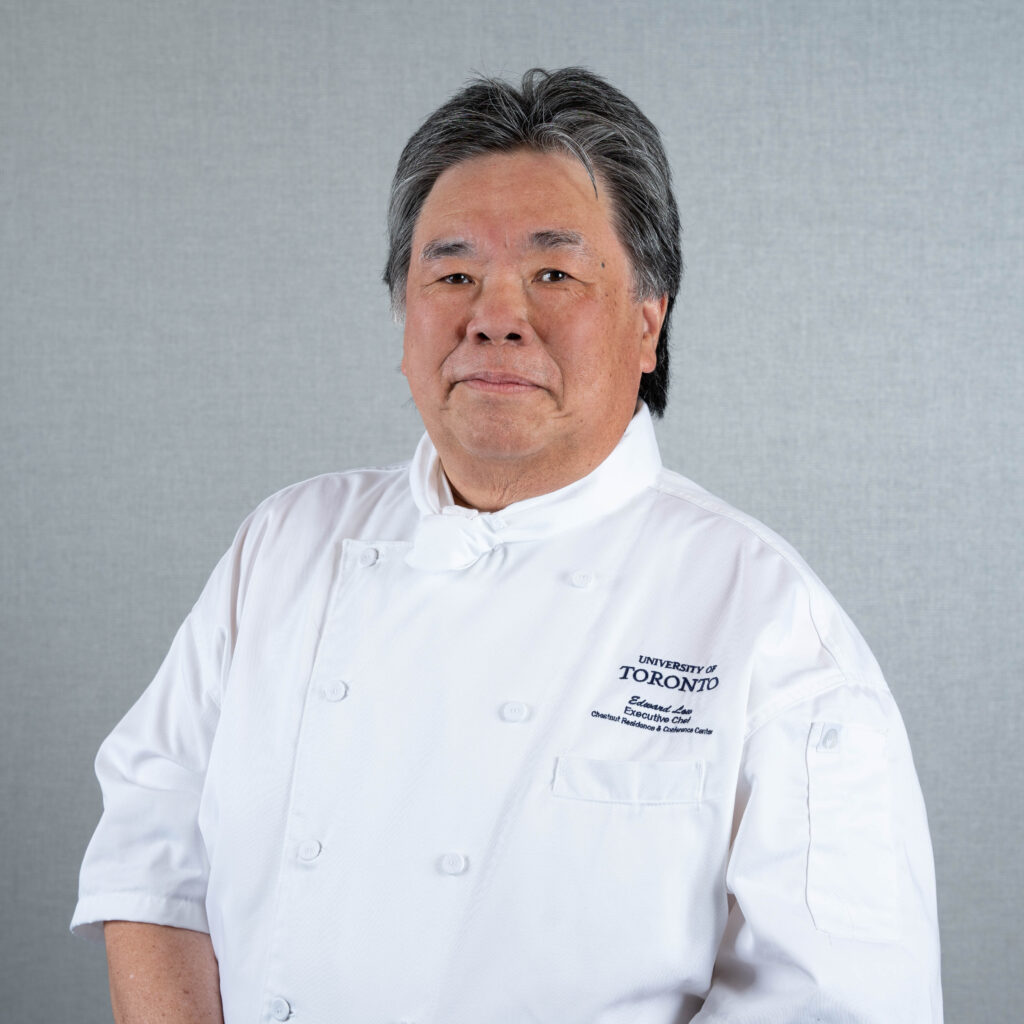 Words of wisdom
"A well-balanced, delicious meal can fuel you through your next class or study session. Thankfully, Chestnut Residence has you covered!"
Executive Chef Edward Low, better known as Chef Eddie, was born and raised in Trinidad and Tobago and moved to Canada for school in the mid-1970's.
Chef Eddie has been working at Chestnut (formerly the Colony Hotel) since 1977, only leaving for a brief 6-month period in 1986 to be a Sous Chef at York University. Chef Eddie returned to Chestnut as a Sous Chef but as of May 2016, he has been promoted to Executive Chef.

Q & A with
Chef Eddie
How did you initially become interested in cooking, and why did you become a chef?
My uncle had a restaurant back home that I loved to visit because there was always something to do and learn. Also, my father owned a grocery store so I've been around food and cooking my entire life. I was pulled into cooking professionally, however, by the chef of the Colony Hotel at the time when I was working as a receiver. He asked me if I wanted to cook and I decided, why not? Luckily I enjoyed it and still do.
Who has been your biggest influence?
I'll say my dad. Every Sunday at 2 o'clock without fail he would cook a big buffet lunch. So now, I still do it but with Sunday dinner and my children instead. It's an important tradition of sorts to me because my dad emphasized family and family bonding and we did that through eating together. I make sure to do the same with my family.
Chef Jaco has had the biggest influence in my career. Chef Jaco is always pushing that we use local and organic foods in our meals whenever we can. At first I always fought with him over the larger price tag of buying organic but the students love it and Chef Jaco is always trying to give back to them and to the community. I really respect him for that.
What are your standards as a chef, such as sustainability?
I try to buy local when I can and when it's affordable. Not everything is affordable so it's not always realistic. We try to support where and when we can. At the end of the day, we make sure the students have fresh, healthy, sustainable meals. It's all about the students because they're here eating and living for eight months of the year. We have to work with them no matter what.
How does this impact your menu development?
We try to do as much local as we can. This year, we're going a little healthier. We're getting rid of some of the starches. Instead of serving chicken with rice and potatoes, we'll serve it with a salad or cold grain. It was healthy already, but now we're going to the extreme.
What is your personal cooking style?
Anything I can cook in one pot. A lot of people think chefs go home and cook this fancy meal but that doesn't happen. Whatever is quick and gets me out of the kitchen fastest is what I like to cook at home.
What do you enjoy about working at the University?
No two days are the same. There's always something that goes wrong: the dishwasher doesn't work, the kettles don't work or half the staff calls in sick. I like the everyday challenges because they keep me on my toes and make the day go by quickly.
Bonus: What is your favourite dish to make?
Steak. I've even taught my son how to cook it, because he loves barbecuing, so he's taken over the barbecuing tasks. I taught him how to cook a steak where it has that nice char on the outside.
Want to learn more about our team?
Check out other articles and interviews featuring our campus chefs:
Events:

Mac 'n Cheese Smackdown 2016
Field to Fork 2016
Chili Throwdown 2015
Mac 'n Cheese Smackdown 2015