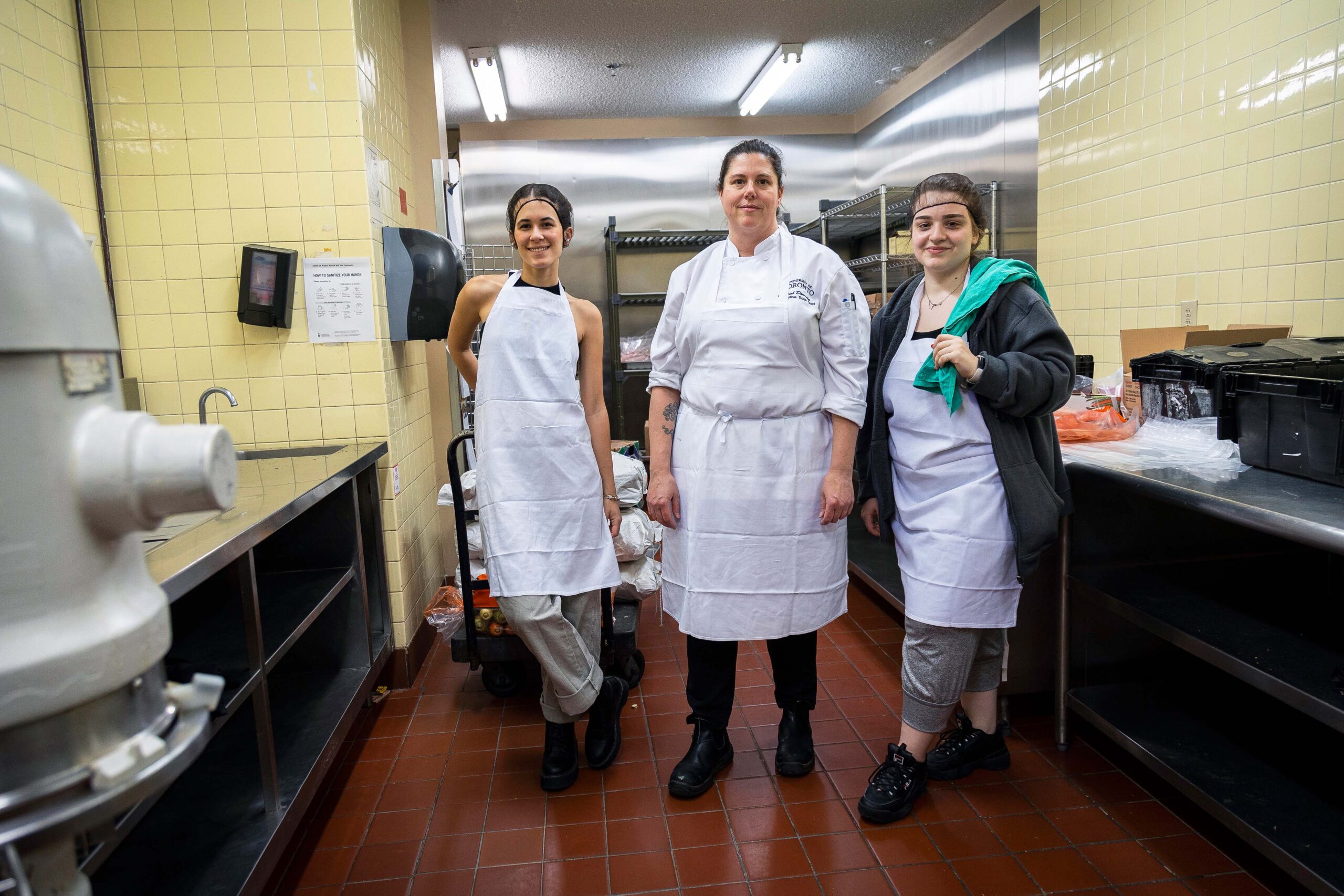 January 19, 2023
Holiday Meal Share
Story by Laura Rosen Cohen
As the holiday season approached, students were busy writing papers and exams, and many were making plans to spend time with family and friends. It is a festive season of celebration and giving and of plenty for most.
Unfortunately, there are those within the U of T community who face food insecurity on a regular basis and for them, the holidays can be even more challenging. For this reason, Food Services at the St. George campus partnered with the campus organization Meal Care to prepare fifty complete holiday meal kits which were distributed to students in need through the UTSU (University of Toronto Students Union) food bank.
This holiday initiative was beyond the regular day to day cooperation between Meal Care and Food Services.
Tamara Altrarac, Cognitive Science major student, prepares root veggies for a meal kit.
Meal Care is a student-run non-profit that organizes volunteers to pick up leftover food from campus events and delivers it to students in need and to non-profit organizations. There are eight chapters now throughout Canada, and the U of T chapter is the first in the GTA.
"What we are preparing now is a box that has all the makings of a full, beautiful holiday meal with easy instructions that people can make in their own homes. Each kit has a full chicken, heirloom carrots, Brussel Sprouts and Yukon gold potatoes," says Chef Trish Donnelly of Food Services at the Chestnut Residence.
"It's a fully balanced meal with meat, a starch and a vegetable and I prepared and printed the instructions myself with really easy to follow directions," she adds.
The meal kits, which were prepared at the Chestnut Residence kitchen, were distributed by the UTSU just before the winter holiday break. Chef Trish explains that the elements of the holiday kit come from surplus food that would go normally to the same food rescue programs or Second Harvest. So, a portion of those supplies were reserved for the holiday, and then packaged in special, festive holiday kits. But before the ready-made boxes magically appear at the UTSU, a handful of volunteer "elves" were busy at work at Chestnut.
Tamara Altrarac, 20, is a third-year Cognitive Science major, minoring in criminology and philosophy. She founded the Meal Care chapter at U of T, after seeing firsthand how much food appeared to be wasted at various locations on campus and how much food insecurity she was witnessing among fellow students.
"I was born in Serbia and family moved here to Canada in 2015. Once I got to university, I was really shocked that there could be so much food insecurity within such a big and prosperous city such as Toronto," she says.
"And then on the other hand, I would look around and see places that seemed to be wasting so much food. It was important to find a way to pull those threads together, so I approached Food Services to start a Meal Care chapter here at U of T," she adds.
Tamara says that the local chapter has a large network of volunteers; students, faculty, alumni, and staff, who volunteer to pick up and distribute food from events on campus. Their network is drawn mostly from social media and from the grassroots activist community.
Ana Noda Gonzalez, trimming brussels sprouts in the kitchen at Chestnut Residence.
Her fellow volunteer, Ana Noda Gonzalez, 21 is a double major in Psychology and Health and Disease and a minor in Immunology. She was born in Cuba raised in Mexico.
"I came to university alone, although I have an aunt who is a Canadian citizen," she says. The first year was really so hard because of the pandemic, we went online, and I was back in Mexico with my family. But then there was the extra added stress of the hurricane season in Cancun, and I was often without electricity trying to keep up with all of the online lessons," she says.
Ana says that her second year of university has been much better since she has been living at Chestnut Residence and that things are mostly back to normal. She did not know Tamara before she got involved with Meal Care, but now they are friends as well as fellow volunteers.
The spirit of the season is alive and well on campus and within Food Services, where our commitment to sustainability, accessibility and community is at the forefront of everything we do.
If would like to get involved with Meal Care, visit their website to fill out a form or reach out on Instagram.  
Photography by Jackie Shapiro
---
Related