January 27, 2023
Morning Coffee and Morning Smiles at the Robarts Library Starbucks
Story by Laura Rosen Cohen
Robarts Library, Canada's top university research library and ranked third in North America among peer institutions, is situated right at the centre of the St. George campus, at the busy downtown intersection of St. George and Harbord streets. And in the centre of the library, sits the engine that keeps the University running on a daily basis: coffee. More specifically, it's the Starbucks at Robarts library that offers up hot and cold beverages, snacks and sandwiches to students, faculty, and staff alike.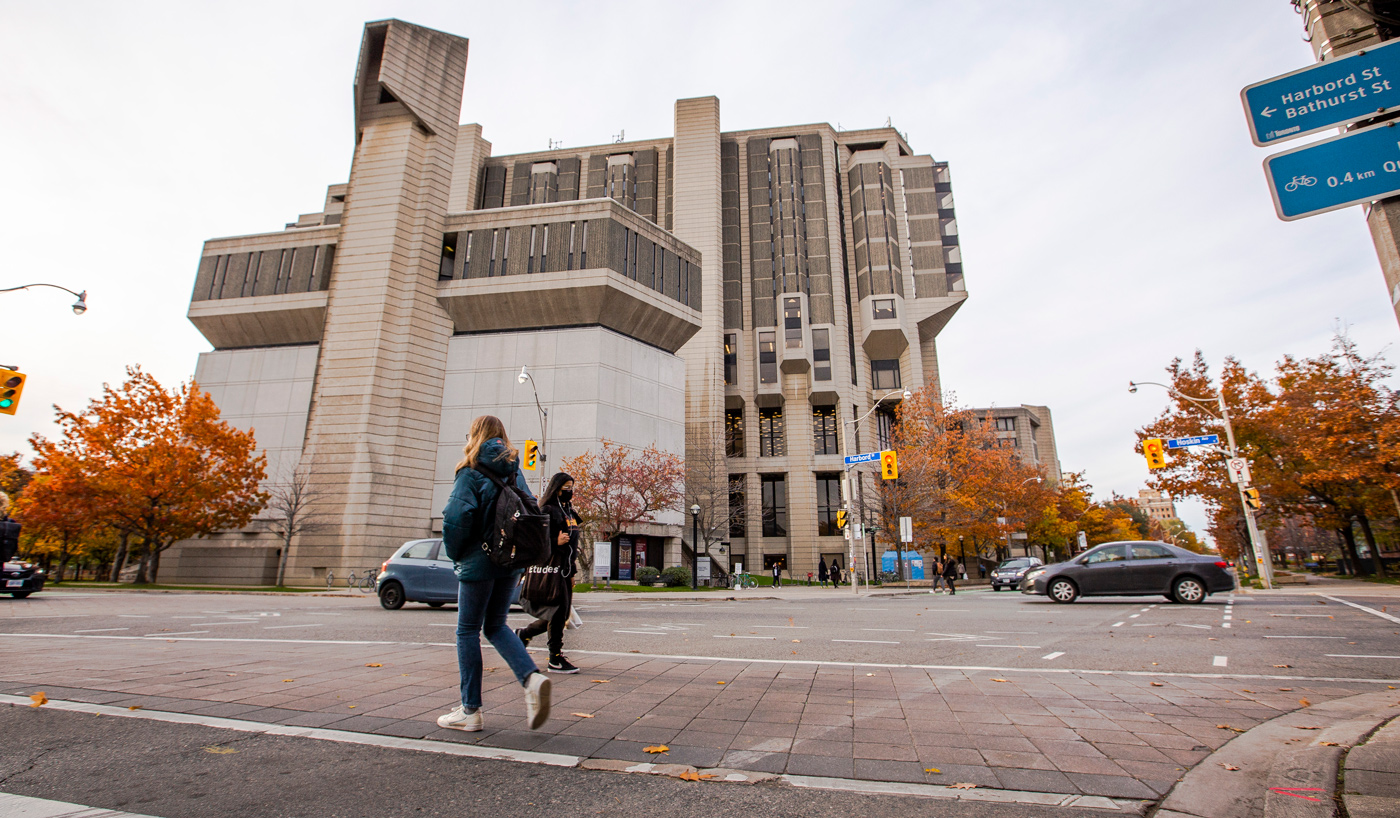 But there is much more to Starbucks at Robarts than just the astonishing number of people it serves and the beverages on the counter. The people behind the counter serving up your favourite cuppa are also a big part of the story.
Rowell David immigrated to Canada with his family from the Philippines in 2007 and started working at the Starbucks at the Medical Sciences Building on campus in 2013. He has worked his way up to being a Lead at the Starbucks at Robarts and talks about the feeling of community at Robarts Library.
"We have a really special customer demographic here," he says. "It's mostly students, although faculty and staff do come in as well. Overall, the vibe is very chill, even though it's really busy all the time. Plus, we are really lucky here because our supervisors are also really great," he adds.
Rowell says that one of his customers told him that the staff at Starbucks Robarts must have superpowers to deal with so many people day in and day out.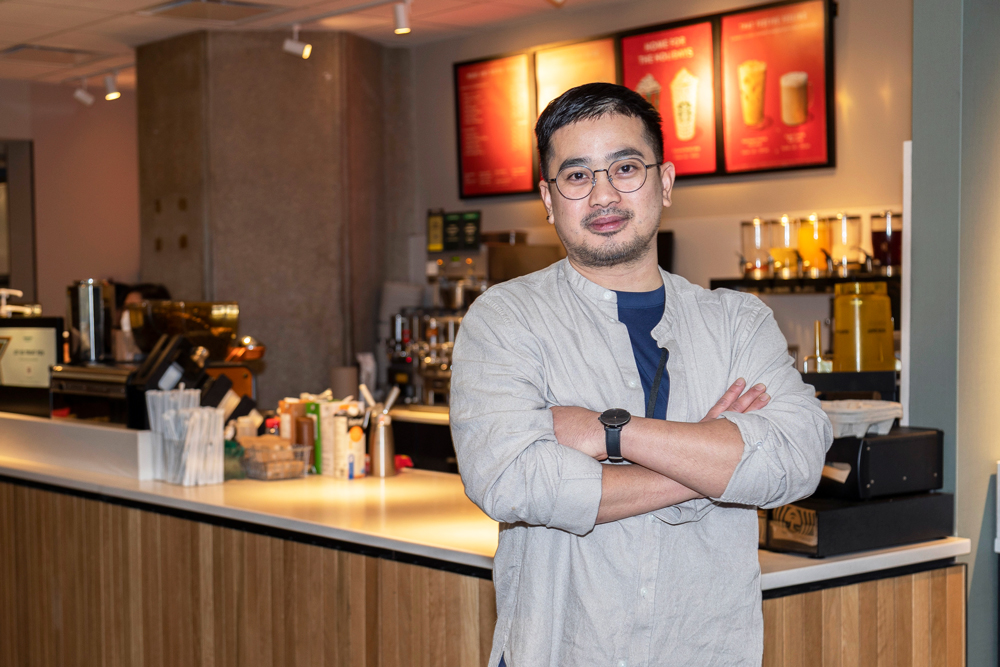 "That might be true, but I know my real superpower is remembering people's names. It may seem like a small thing, but there's something about the small things, right? It's very human and very personal to know someone's name and what their regular drink is," he adds.
Mhaelyn Berganos, also from the Philippines, started off her life in Canada working within the live-in caregiver program; a common way for many new immigrants to have a steppingstone into Canada. She then sponsored her husband and young son. Mhaelyn's son is now 18 years old and taking business studies at UTSC (University of Toronto Scarborough). Mhaelyn arrived at U of T via a friend.
"I had a friend who was working at Starbucks at the time, and it sounded great, but I heard from other people that there was a lot of written material to memorize, and I was a bit intimidated about applying. But then I decided to go for it. And it was a bit challenging, but I did it," she says.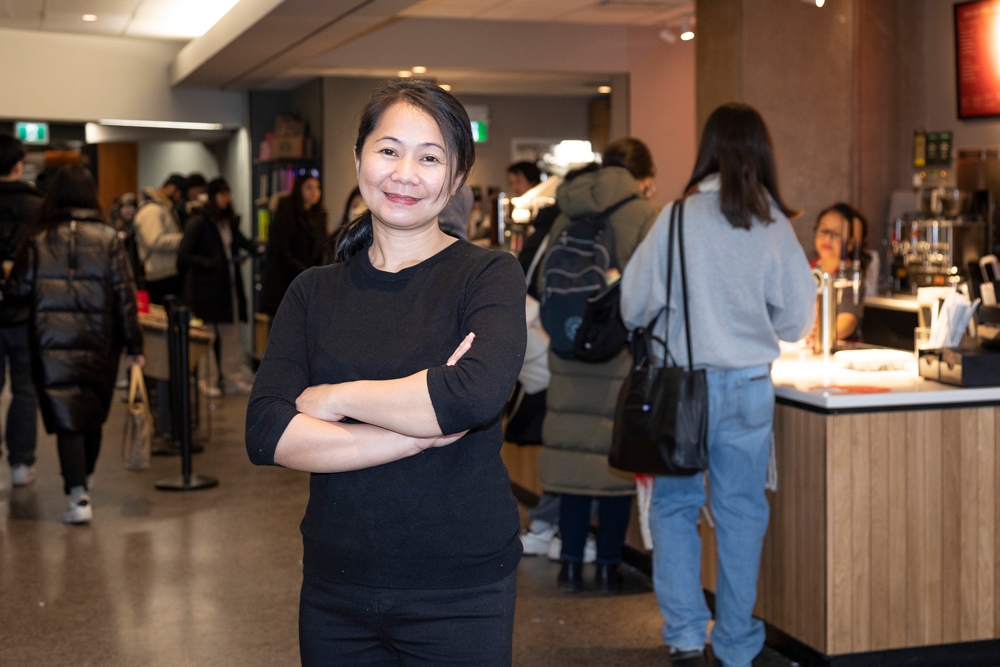 "What I really like about working here at Starbucks is our team. I like dealing with dealing with different people who come in every day, connecting with them and the diversity here. We are very busy all day but I like it's when it's busy. If it's quiet, the time doesn't flow," she adds.
Creating an elevated experience to continually raise the standard of excellence within all locations is what Food Services and the entire Spaces & Experiences portfolio strives to do every day, and the individuals who work within those spaces, are a large part of that.
"Rowell and Mhaelyn are exemplary U of T employees, and in their own way, make a difference in the lives of students through their work at Robarts Library. They make sure that they deliver a great Starbucks experience and make sure that this incredibly busy retail operation runs smoothly every day," says Haiming Li, Manager, Retail Operations.
The next time you are at Robarts Library, grab a coffee at Starbucks and keep an eye out for Rowell or Mhaelyn. They, or any other of the members of the Starbucks Robarts team will be happy to serve you and make your experience a memorable one.
Photography by Jackie Shapiro
---
Related